Calvary Lutheran Church

Calvary Lutheran Church
, Rio Linda began recording sermons back in 2002, but only started recording them on a regular basis to CD format in early 2005. The podcast includes a reading of the Gospel lesson as well as the full sermon.
Sermons Web RSS Podcast Alley
Sacramento Lutheran Television
Sacramento Lutheran Television
began broadcasting its weekly cable-access program "Lutherans ALIVE!" in 2003, and began placing the audio and video on the web in 2005. While the cable broadcast is no longer available, SLTV continues to provide alternative web programming for Lutheran Churches in the Sacramento area.
The Todd Rundgren Connection
The Todd Rundgren Connection
has been providing information on the musician Todd Rundgren since 1994 and has often included audio content in its pages. The TRConnection ToddCast is a developing podcast that expects to provide exciting musical and news content that cannot be conveyed in print.
The TRConnection ToddCast
Hosted by Roger Linder Promo Web RSS iTunes Music Store Odeo Podcast Alley Podcast Pickle Podcast.net

Podnova

The TR Connection Music ToddCast Web RSS iTunes Music Store
ToddFest/West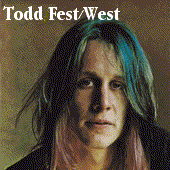 Toddfest/West
is an annual gathering of Todd Rundgren fans, normally held during the summer at various locations in Northern California.